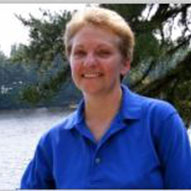 Patty Stagno
Consultant
Ms. Stagno has nearly twenty five years' experience in the technical, safety, health, medical, and utility fields. As a Radiology Technician graduate from Northeastern University, she worked at many Boston area hospitals before joining the Navy where she served as a Hull Technician.
During her tour of duty, Patty became skilled at arc welding, sheet metal fabrication, HVAC installation and repair, pipefitting, plumbing, chemical and biological response, forklift & crane operation, and firefighting. After her discharge, Patty returned to her career in radiology. However, the excitement of her Navy experiences had developed a passion for troubleshooting mechanical failures. While working nights in the hospital, Patty literally began her utility career at the bottom by working her way from cleaning underground vaults and manholes to isolating and maintaining their breakers. She subsequently moved on to switching, isolating, and maintaining 345kV transformers in substations. Patty held positions as substation operator and maintenance technician for eight years before progressing to skills trainer, electrical system supervisor and eventually the manager of the transmission and distribution system. Patty recently left her position as Safety & Training Coordinator at a New England gas and electric utility to join WSSI.
Over the years, Patty earned certifications from both OSHA and Keene State College and is an authorized OSHA Outreach Training Instructor in General and Construction Industries. She has taught Radiological Protection and Biology for Northeastern University and presented at national seminars both for the medical and telecommunication industries.
CURRENT CERTIFICATIONS
· Certified Safety & Health Specialist from Keene State College in:
· Emergency Management Industrial Hygiene General Industry Construction Industry
· Certified CPR, First Aid instructor
· Certified 3M and OSHA Respirator Trainer
· Certified Forklift (Powered Industrial Truck) Trainer
· Authorized – OSHA Outreach Trainer 29 CFR 1910 & 1926 – since 2002
PAST CERTIFICATIONS
· Hazardous Waste Site Supervisor & Worker 40 hour Emergency Responder 2002
· International Nuclear Power Operations 1992
· Northeast Utility Training Association Trainer since 1992
AFFILIATIONS
· Energy Council of the Northeast (ECNE)
· American Society for Training & Development NH (ASTD)
· National Safety Council – Instructor in Permitted Confined Space Entry, Hazard Communication, Inspections & Walking Surfaces
· National Association for Women in Construction (NAWIC)
· Northeast Training Association and International Nuclear Power Operations (N.E.T.A., I.N.P.O)